Tuesday, August 14, 2012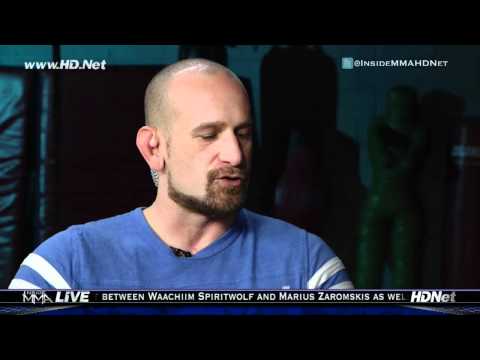 Head trainer at Jackson's MMA Greg Jackson speaks about his star pupil Jon Jones and his recent DUI charges
Source: http://mmalice.com/greg-jackson/greg-jackson-talks-jon-jones-dui-and-if-he-will-coach-him-still-video_c7d284e40.html
Daisy Fuentes Dania Ramirez Danica Patrick Daniella Alonso Danneel Harris Deanna Russo
Monday, August 13, 2012
Man, what a show last night, huh?  After a string of events that had me questioning whether I should bother paying my cable bill, UFC on FOX 4 knocks it out of the park.  The UFC's resident karate man earned himself a shot at the light-heavyweight belt, Joe Lauzon did what Joe Lauzon does, and Mike Swick returned after a lengthy layoff to rack up a win via knockout.  All your morning news pertains to info gleaned from the post-fight presser, so let's get right to it.
UFC president Dana White didn't have nice things to say about Mauricio "Shogun" Rua at the post-fight press conference.  Well, he didn't exactly say anything that bad, but, you know, you kind of don't want your boss talking about you like this.
For putting on yet another exciting fight and finishing opponent Jamie Varner, UFC lightweight Joe Lauzon pocketed a cool 100 grand in bonus money last night.  For all you bean counters out there, that's $50,000 for Submission of the Night and $50,000 for Fight of the Night.  That's going to make for a pretty decent barbecue at Chez Lauzon in Massachusetts.
Mike Swick took home the Knockout of the Night bonus for sending DaMarques Johnson into La-La Land.  Nice comeback, no?
Brandon Vera's got nothing to be ashamed about.  He was the heavy underdog going into his fight with Shogun, and fought his heart out.
Source: http://sports.yahoo.com/blogs/mma-cagewriter/shogun-bj-penn-joe-lauzon-morning-news-roundup-140152712--mma.html
Jennifer Love Hewitt Jennifer Morrison Jennifer ODell Jennifer Scholle Jennifer Sky Jenny McCarthy
Posted by

spiveyB02
at 11:19 PM
No comments:

Posted by

spiveyB02
at 9:19 PM
No comments:

Part 1 of MotoGP's latest worst-kept secret is out: Valentino Rossi is to leave Ducati at the end of the 2012 season. Ducati this morning issued a press release (printed below) that their working relationship with Rossi will come to an end at the end of the season. The full press release is after the jump. Ducati and Rossi to part ways at the end of 2012: As the MotoGP series awaits its return to ...
Source: http://feedproxy.google.com/~r/AsphaltandRubber/~3/5vADzfUYi-w/
Bijou Phillips Blake Lively Blu Cantrell Bonnie Jill Laflin Bridget Moynahan Britney Spears
Posted by

spiveyB02
at 5:19 PM
No comments:

Posted by

spiveyB02
at 3:19 PM
No comments:

Following on from her recent fame painting the Women's Triple Crown of Surfing poster
(more here)
, we're proud to present Hawaiian;
Colleen Malia Wilcox
as a featured artist on COTW. Below is her original painting and the end poster presented by Vans.
"Her artwork expresses a love of the island lifestyle and appreciation for the natural beauty of Hawaii"
. We hope you enjoy the rest of her art…
www.clubofthewaves.com/surf-artist/colleen-malia-wilcox.php
Photo: Stephanie Gilmore winning a wooden carved rendition of Colleen's painting
-
www.colleenwilcoxart.com
-
http://malikodesigns.blogspot.com
Source: http://surfingartculture.blogspot.com/2011/01/surf-artist-colleen-malia-wilcox.html
Cristina Dumitru Daisy Fuentes Dania Ramirez Danica Patrick Daniella Alonso Danneel Harris
Posted by

spiveyB02
at 1:19 PM
No comments:

Posted by

spiveyB02
at 11:19 AM
No comments:

Posted by

spiveyB02
at 9:19 AM
No comments: